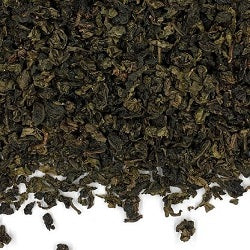 Oolong Green Tea
Oolong Green Tea 1 oz stay fresh resealable package.  Oolong teas are allowed to oxidize to varying degrees between green (no oxidation) and black (full oxidation). This is a prime grade Oolong, the type commonly served in many Chinese restaurants. The large, coarse leaves used to create this tea have been to allowed to oxidize almost halfway and brew a smooth, mellow, fairly dark cup with light notes of earth, barley, and notes.

Notes and Instructions

Recommended brewing: 2-3 minutes at 185-195°F (85-90°C).

Allergen Notice

Products may be produced on machinery that packages tree nuts, soy, and dairy items. Our warehouse stores packaged tree nuts, soy, and dairy items in common areas.
---