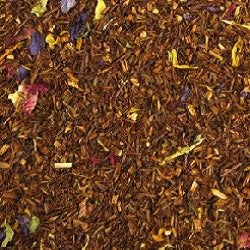 Paradiso Red (Rooibos) Tea
Paradiso Red (Rooibos) Loose Leaf 1 oz stay fresh resealable package.  Paradiso Red is a robust, thirst quenching and caffeine-free tisane (herbal tea). The tisane itself is a colorful blend of premium rooibos and natural flowers that is flavored with a complex fruity nectar. We named it Paradiso for its North Beach inspiration as, when served iced, it rivals all Italian sodas and is paradise in the mouth. It brews similar to Mighty Leaf's African Nectar blend.

Notes and Instructions

Recommended brewing: 5+ minutes at 190-209°F (87-98°C).

Ingredients

Rooibos, calendula petals, pink rose petals, wild malva and artificial tropical fruit flavoring

Allergen Notice
Products may be produced on machinery that packages tree nuts, soy, and dairy items. Our warehouse stores packaged tree nuts, soy, and dairy items in common areas.
---